Introduction
If you are already using mParticle for tracking your user data data then the mParticle - MoEngage Integration makes it extremely easy for you to forward your event and attribute data to MoEngage from mParticle and send the campaign data generated by MoEngage back to mParticle for enriching your user data.
Once you've tracked your data through mParticle's source libraries, mParticle will translate this and route your data to MoEngage in the format MoEngage understands so that you can save some of your engineering efforts for using MoEngage.

Learn more about how to use MoEngage with mParticle
Getting Started
mParticle, as a customer data platform will enable you to consolidate all your data from different sources into mParticle and then forward the data to partners like MoEngage seamlessly without duplicate engineering efforts for data tracking.
mParticle and MoEngage support the following integration modes -
Inbound Integration: With this integration, MoEngage will forward all campaign data that we are generating to mParticle.
Outbound Integration: With this integration, all your user data that you are sending to mParticle will be sent to MoEngage via server to server APIs.
Use-cases
The mParticle <> MoEngage Integration will help you with the following use-cases
Centralized Data Collection: Collect all the data about your users in mParticle by leveraging different data sources.
Easy Integration: Setup MoEngage data tracking with a few clicks by forwarding all the data from mParticle.
Two way integration: Enrich your data in mParticle and other connected destinations in mParticle by forwarding the MoEngage campaign data to mParticle.
Configuration: Outbound Integration
To send your data from mParticle to MoEngage, you need to configure MoEngage as an output in mParticle and configure the App ID and Secret Key as shown below -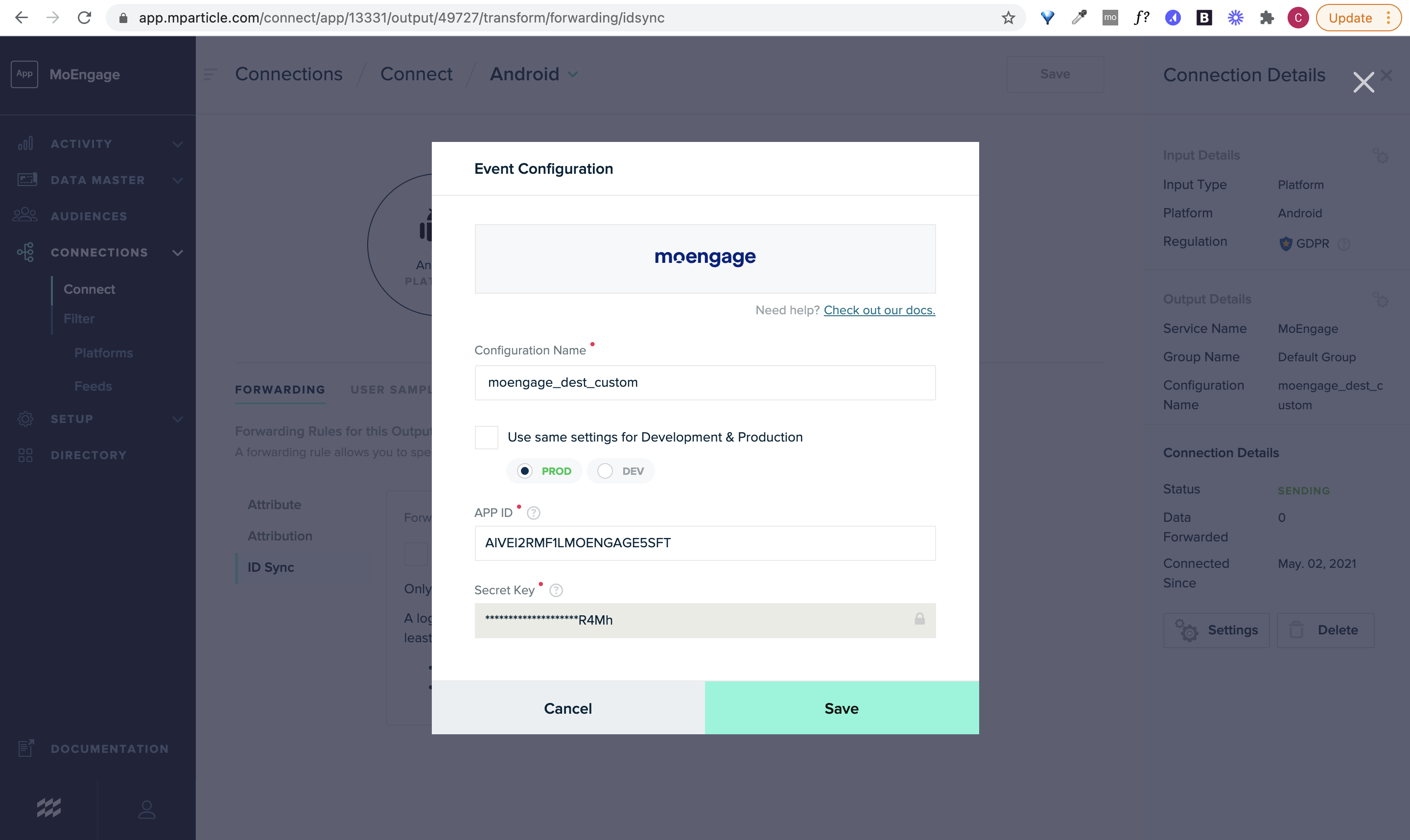 You can find the APP ID and Secret Key on your MoEngage dashboard : Navigate to Settings -> App -> APIs -> Data API Settings as shown below -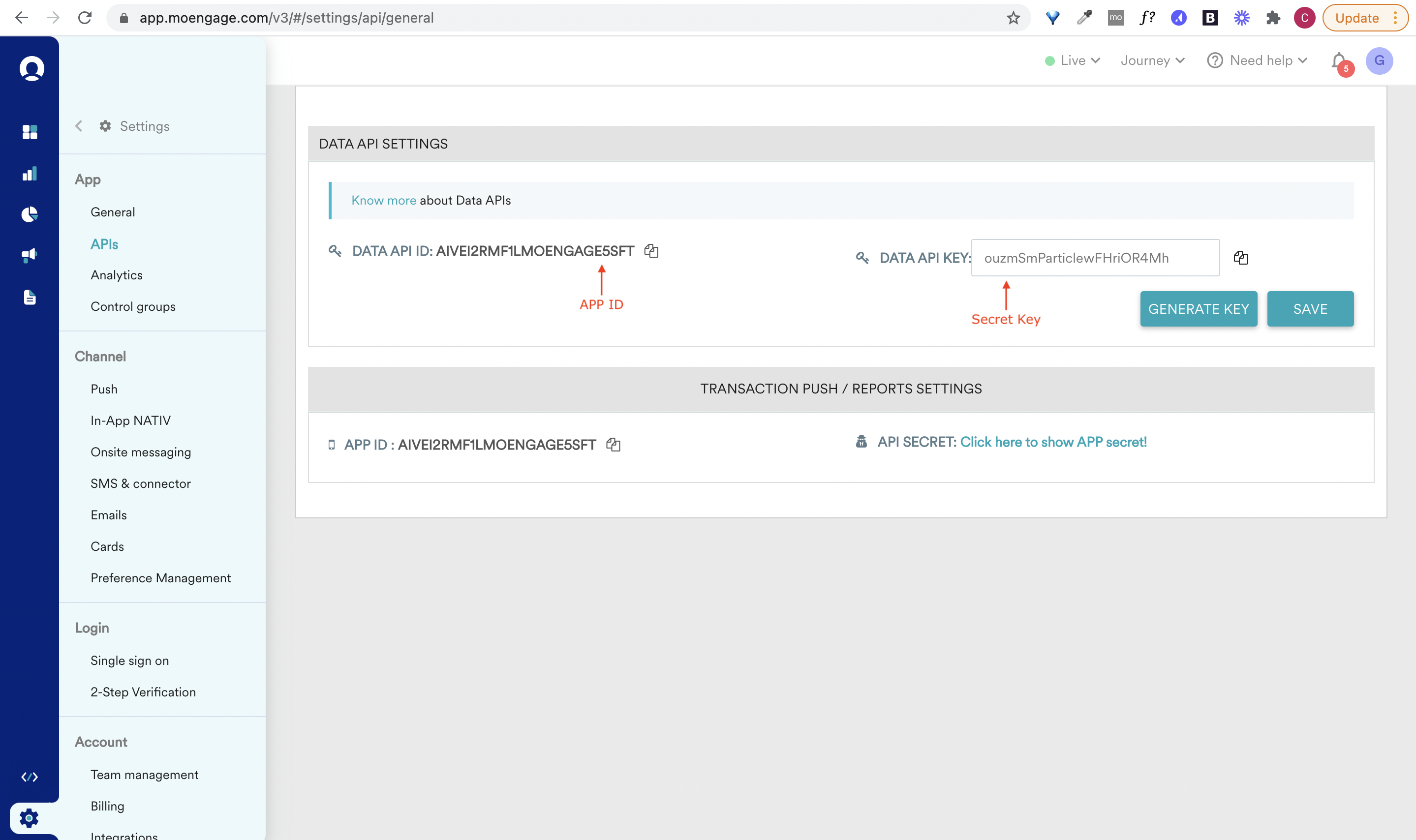 Configuration: Inbound Integration
With the Inbound Integration, MoEngage will forward the campaign data from MoEngage to mParticle. The data points sent to mParticle from MoEngage are available here -> Campaign Interaction Events.
To do this, you need to setup MoEngage feed as an input in mParticle as shown below -
1. On the Mparticle dashboard, click on the Connections >> Feed >> Input feed.
2. Select MoEngage as custom input feed.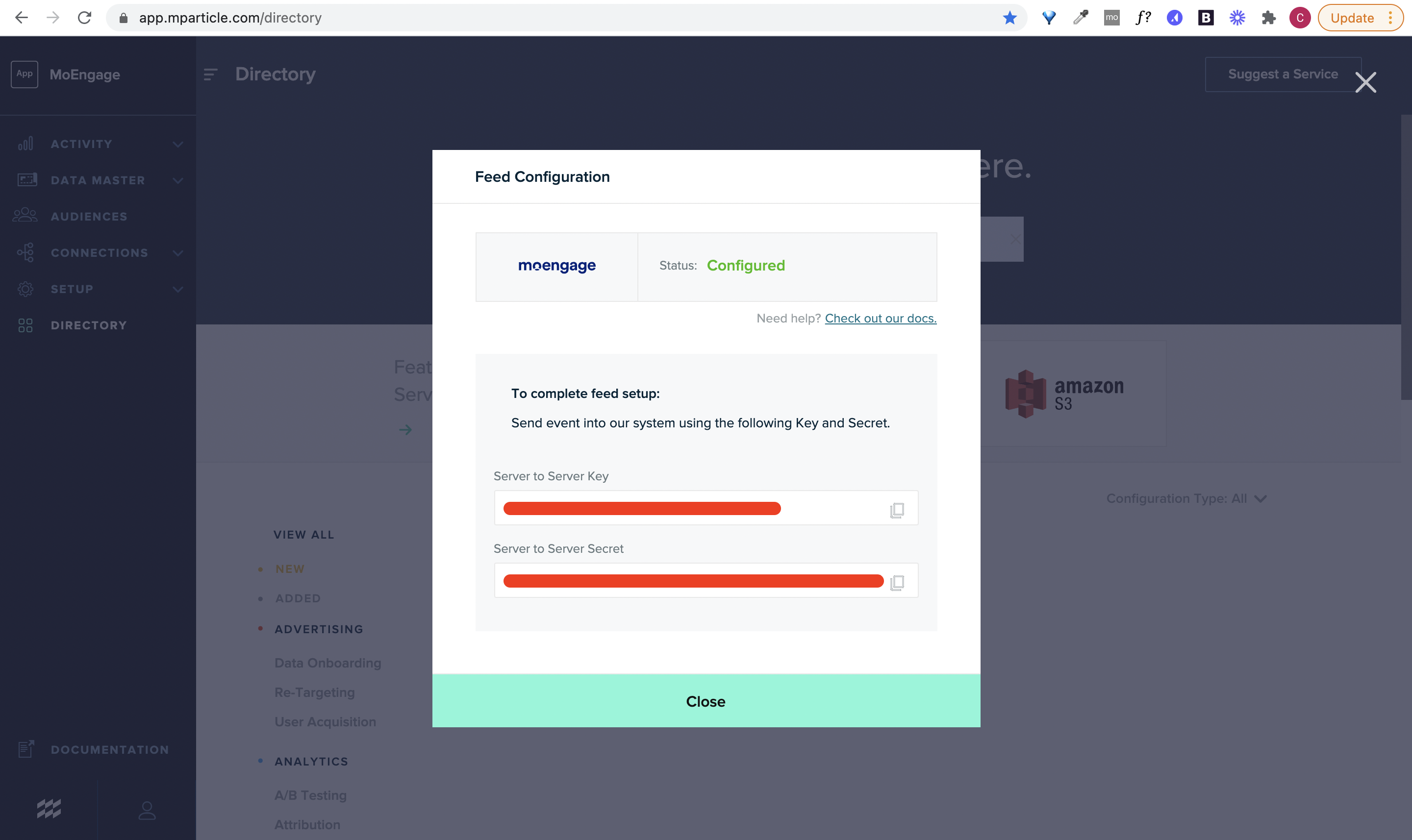 3. Write to your MoEngage account manager or to our support team at support@moengage.com. Please share the Server to Server Key and Server to Server Secret for authentication.
Once we have enabled the data export integration from MoEngage, you should start seeing the campaign events in mParticle.
Limitations
The mParticle Integration only takes care of sending events to MoEngage from mParticle. To leverage MoEngage capabilities like push notifications, in-apps would require some additional integration which is listed in the below table -


Integration
Details
Android SDK
For showing push notifications, capturing performance stats, showing in-app messages and real time triggers on your Android app.
iOS SDK
For showing push notifications, capturing performance stats, showing in-app messages and real time triggers on your iOS app.
User Mapping
If you need to send push notifications or in-app messages to your users basis behavioral data from mParticle, you would need to pass the a unique user id to MoEngage SDK which should be the same as the mParticle customer_id.
Logout
Please ensure that you are not calling MoEngage logout methods from Android or iOS as this may lead to data getting corrupted. For mParticle integration, we need the user unique_id immediately on the first app_open after install. You could use the device ids like GAID, IDFV for this or the MPID or any other customer_id that you are tracking with mParticle.
InApp Messages
For showing an in-app message immediately after the user performs an action on your app. To do this, you would need to send such a trigger event via MoEngage SDK directly. Please take care to not use the same event as in mParticle for this case as it may lead to duplication of events.
Geo fencing
Geo-fencing would need separate integration as well.
Android | iOS

Please note that for MoEngage services like Push Notifications, In-App Messaging and other channels to work, you will need to integrate the MoEngage SDK. You can refer MoEngage developer documentation here.