Introduction
TRIFFT delivers enterprise-grade loyalty to retailers with a ready-to-roll-out toolkit. It is an all-in-one solution that allows customers to launch a modern loyalty club solution within weeks.
MoEngage <> Trifft
TRIFFT is a Loyalty CRM software that helps customers to have a loyalty element to attract & retain members. With the MoEngage and Trifft integration, you can:
Assign a coupon code to a member when they perform an action in your app
Integration
library_add_check

Prerequisites

You would need to know your Trifft API Token to use their Rest APIs.
Assign a coupon code to a member via MoEngage
With MoEngage's Connector Campaigns, you can send an API call to Trifft to assign a coupon code to your users when they perform any action on your app or website.
To create a connector campaign on MoEngage, 
Navigate to Create Campaign >> Connectors >> Custom and choose the delivery type most suitable to your needs. For this example, we will select "Event Triggered" and select the event as "Purchased".


On step 2 of the campaign:
Call the Trifft API
To assign a coupon to your member, use the POST method and configure the payload.
Select the method as POST
Headers


Authorization: You need to add your API token here: Bearer <your_api_token>
Content-Type: application/json

Add the endpoint as Webhook URL:

https://api.trifft.io/v1/member//coupon/</assign

- Replace <coupon_id> with the ID of the coupon you want to assign.
Body:
You can leave the body empty.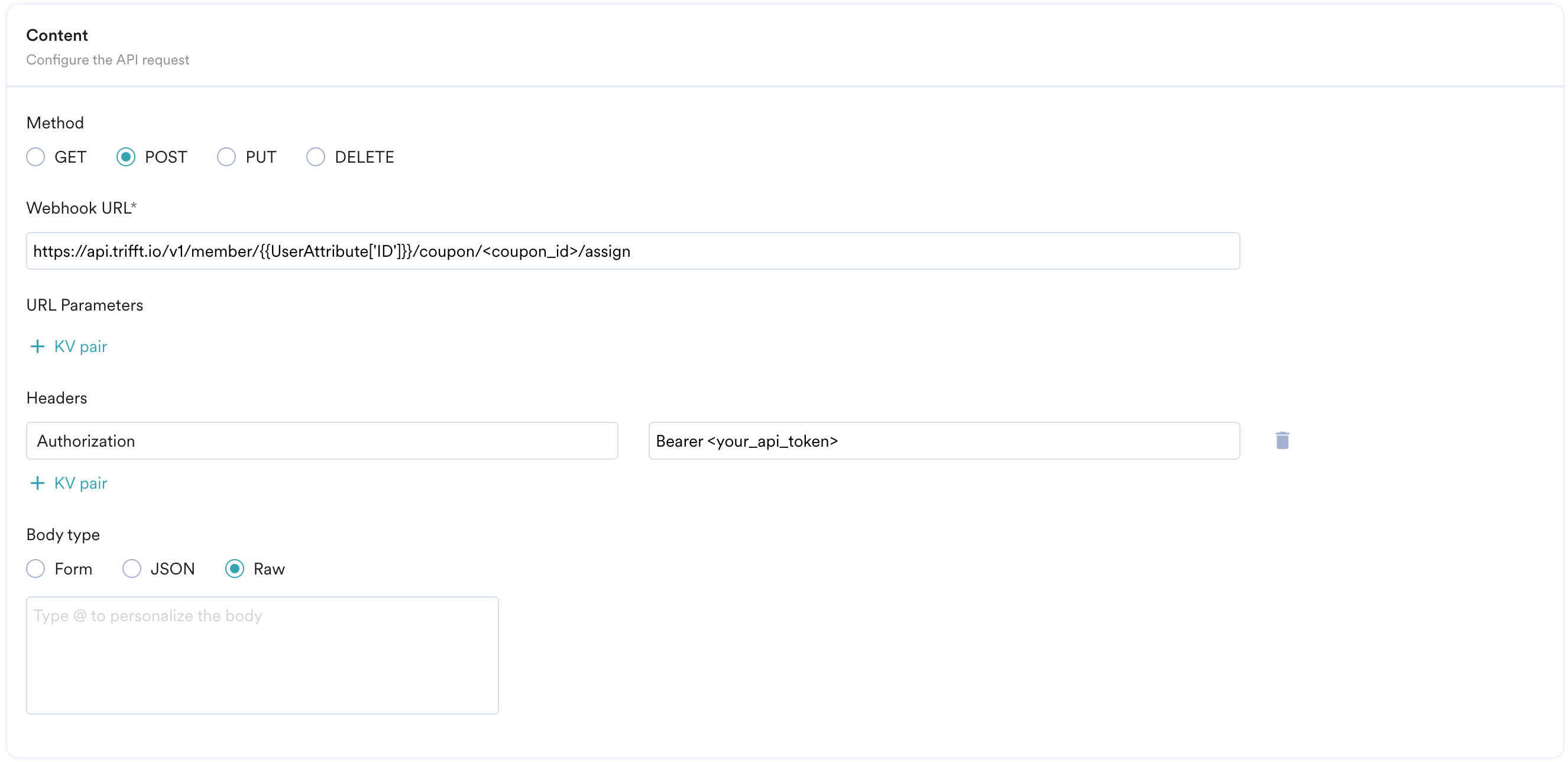 Refer to the Trift API documentation for more information.
You can test your campaign on this step.
Once ready, you can go ahead and publish this campaign.