Introduction
As soon as you are done with the integration and testing, you need to get it listed as MoEngage partners. MoEngage partner ecosystem helps customers discover and learn about your integration.
You should use this space to really 'sell' your integration, telling a compelling story about the benefits and use-cases.
Partner checklist
Once you've finished developing your integration, you can fill the form here to be listed as a MoEngage partner on our website and MoEngage App marketplace.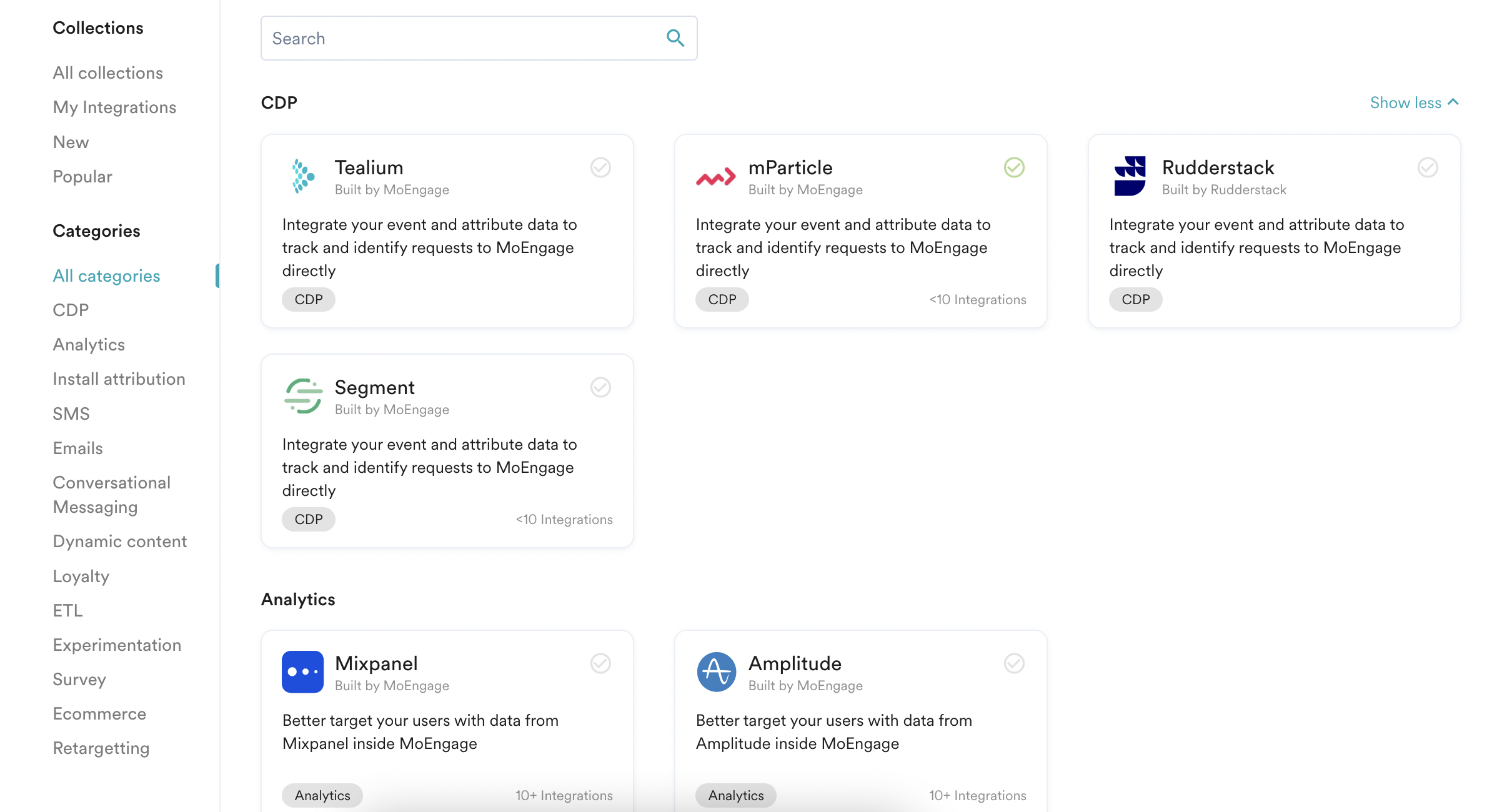 Here are the requirements to create an effective partner listing:
1. Partner logo
While raising a request, you will need to submit your company's logo. The logo will be small, so simple and mini logo works best. The criteria include:
The image needs to be 34 px X 34 px and PNG format. Please make sure that the image is not pixelated or stretched.
You must have the right to use the image.
Your icon cannot contain any form of the MoEngage logo.
2. Partner name
Customers will see your name first. A great name will give customers an indication of the integration use-cases. So a punchy, memorable, and easy to search name helps. The criteria include:
Must be 20 characters or less
Must be a unique name in the store
Can be your product or company's name
Must not contain MoEngage
3. Description
Here you need to outline a clear value proposition or job to be done. For example-
I

ntegrate your users and event data to track and identify requests to MoEngage directly

Better target your users with data from XXX inside MoEngage

Expand creative capabilities by leveraging our creative features in MoEngage campaigns
Make sure your short description is punchy, concise, and intriguing so that customers click to find out more. The description should focus on your integration specifically and not your product. The criteria include:
Must be 120 characters or less
Use sentence capitalisation
Not end with a period or full stop
4. Built by
This should be your company name. It can also be the same as your integration name. It must be 20 characters or less
5.

Website URL

This is the URL where customers can access your company's website and learn more.
6. Long description
This is your opportunity to really let your integration shine. The criteria include:
2-3 short paragraphs (or bullet points)
Uses sentence capitalisation (not all caps)
Add value proposition and benefits of using the integration (focus on outcome rather than how)
Include specific examples or use cases to help customers envision the ways in which they might use the integration
You can refer to the following sample structure
Paragraph 1: Key key benefit of the integration, the problem it solves, and the core use case or an example
Paragraph 2: Delve into additional benefits and/or use cases. If needed, provide more context on your own product or service
Paragraph 3 (optional): Just one sentence that links to a page for users to find more details- a help document or your product's landing page
7. Documentation URL
This is the URL for your integrations' help doc. Make it easy for customers to learn more and get help. Make sure the URL is publicly accessible.
This is your team's support email address. Enable customers to easily reach out if they need support.
9. Categories
MoEngage customers can browse integrations by category. Please select the 1-2 categories you think best describe your product. For example - Analytics, Customer Data Platform, Attribution, Loyalty platforms, etc.
10. Integration images
Images help customers quickly understand the integration and let you highlight key features. Customers rely heavily on these images when evaluating integrations, and the best images emphasize the core benefits of your integration. The criteria include:
Minimum 1 and maximum 4 images
At least 1608px by 1056px (35:23 ratio), PNG format, and less than 15 MB
Combine cropped, focused, or layered screenshots with text if you want to
In addition, good images are ones that:
✅ Reflect the brand and identity of your product
✅ Use text to highlight the value and benefits of the integration, or to walk through features
🚫 Avoid full, un-cropped, and unannotated screenshots
🚫 Avoid irrelevant use of photography (focus instead on the features and benefits)
11. Promotional video (optional)
Having a video is not a requirement for partner listing, but it is a powerful way to show customers the value of the integration. It may also be used by our sales team to better understand the integration and potentially recommend it to our existing customers or prospects. A few pointers for a successful video:
Keep your video short (we recommend 30-60 seconds) and focus on the key benefits (not the details of how to use it).
Make sure your video is about the integration – and the value of using your product and MoEngage together.
Upload your video to Youtube and share the URL with us.
12. Integration guide
The integration guide is shared on our help docs to help our customers setup and use the integration with ease. You can use this space to help our users get the most value out of our integration.
An effective guide should:
Talk about the introduction, integration scope and use-cases.
Outline the steps a marketers needs to take to start using the integration.You can start with a specific use case.
Use concise, action-oriented headlines and number them clearly. For example - 1. Create a bot on XYZ; 2. Create connector campaign on MoEngage
Keep your description for each step short (2-3 lines max), and use bullet points wherever possible.
Include images, GIFs, and screencasts where possible to better explain flows in a visual manner — but no more than one per step.
If you're looking for an inspiration, check out integration guide with Amplitude, Verloop.
Next Steps
Once your integration is reviewed and approved, you will automatically be listed as MoEngage partner which unlocks revenue-driving partnership opportunities.